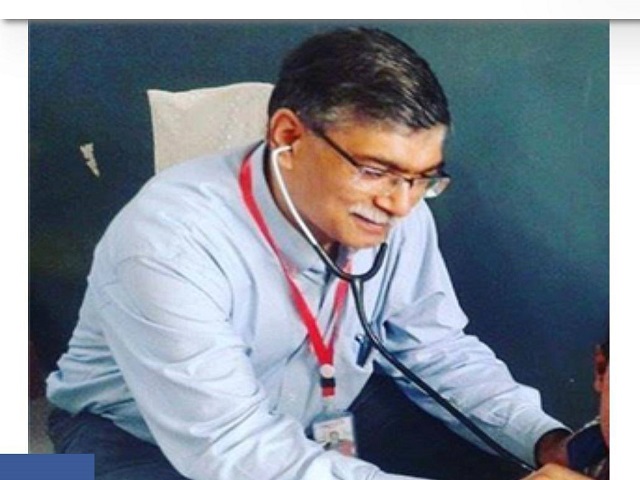 Dr Fasihuddin during one of his clinics. SOURCE Fatima Fasih
---
As the daughter of a martyred frontline worker, I wonder if I will ever be the same again….
---
Originally published here in Express Tribune, Pakistan here: https://tribune.com.pk/article/97093/losing-my-papa-the-peoples-doctor-to-covid-19?fbclid=IwAR2b64vivKvfXvtHWmbOnxFMSXDv7sAnR9jWf6s_Rb7cyro9AaOG6P1NxJk
Fatima FasihJuly 15, 2020
Running in his pair of joggers, faded jeans and white coat across the hallway with a stethoscope in his pocket and a medical ID card in the other is how I saw my papa while I was growing up in Saudi Arabia. A chest specialist (pulmonologist) by training, my father was not an ordinary doctor. He was the people's doctor. He got along with everyone at the hospital and quickly learned a new language (Arabi), their culture and mindsets within months of his new posting in a foreign country at the same age as I am now.
Doctor Syed Fasihuddin, my papa found friends in the janitors, the nurses, the heads of departments, fellow doctors, dentists, and pharmacists. Every time we went with Papa to the hospital with him as kids, we were treated like royalty.
"Dr Syed's children? Beautiful like Baba. MashaAllah"
At the King Abdul Aziz Hospital (Al Zahir Hospital), papa was royalty. Everyone from the Hospital mudeer (director) to the shirke wala (janitor) in his clinic loved and respected him. As he walked through the hallways, tall, handsome and always smiling, everyone would say Salam to him, on occasions give him a high-5 or two, crack a joke or go as far as to jokingly wish him "a happy second marriage soon, handsome doctor". Of course, he laughed it off but he always found this conversation tasteless.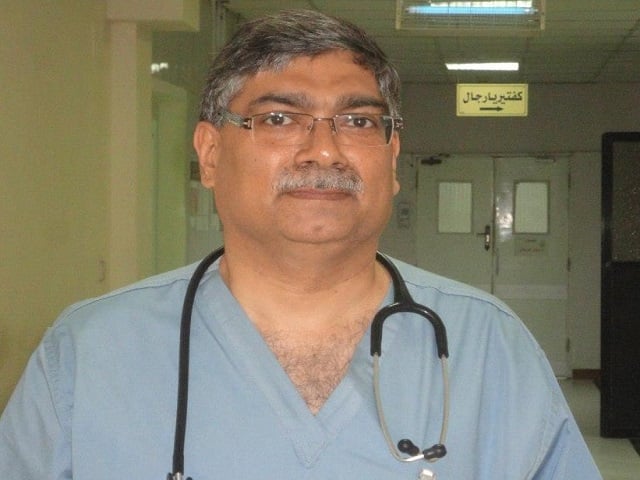 Dr Fasihuddin in his scrubs in Saudi Arabia.
Several of his patients and their families would call papa, send him and our families duas over the phone and even sometimes gifts. Papa would always say that the good that happens to us is because of the blessings he earns through his service.
Ammi was often asked, "Don't you feel insecure about your husband bring so popular in the community?"

But ammi clearly did not.
Working in the main hospital in Makkah as a pulmonologist for 25 years, he treated patients as well as local and international Hajjis for SARS, MERS, different strains of influenzas, pneumonias, tuberculosis and other chest diseases routinely. The Covid-19 situation was not the first pandemic he was dealing with. When my mother told him to be careful in Karachi, he simply said,
"Covid-19 is the third Corona pandemic that I am serving through. I know it very well."
Papa's father, my dada (grandfather), was also a chest specialist and worked as the director of the Ojha Institute of Chest Diseases for several years. My dada, Dr Syed Sabihuddin chose to specialise in this branch of medicine after he lost his young brother to tuberculosis. Ironically, my father passed away in the same campus to another chest disease, Coved-19, 30 years later – an ending we could have never imagined, even in our worst nightmares.
Despite such a bright and happy career in Saudi Arabia, papa never felt like he was settled. He had a fire in him to work in Pakistan always and follow in the footsteps of his father to work for patients back home. After 25 years of service at Saudi Arabia's Ministry of Health, my father packed his bags, said goodbye to his lucrative salary and high connections to come back to Karachi to set up his own health institute, in his mother's name, Taj Consultants Clinics. It would be a tale for another time how Papa avoided giving out a single rupee in bribes and managed to escape the net of corruption in the local governments, but as papa always did, he found a way to make sure his savings were not given out in haram transactions and wasted.
For the initial few years, my father used a borrowed Suzuki Alto for his travels in the city and didn't even purchase a single new shirt for himself as the focus was to invest all that he had in the Taj Project. Yet, he never denied me anything my heart desired and even though my wedding came during the difficult time of setting up the project, papa strived to make it the happiest occasion of our lives.
After five years of hard work and working 16 hours a day with dedication at his own clinic, papa finally made his father's dream come true, but he took no time off to celebrate this achievement as his work had become his way of life. With clinic administration to oversee in the morning and then a packed clinic in the evening, my father's life had become his work. He never denied a patient's phone call even in the middle of the night. If a patient was outside his clinic for him after it closed, he would still bring the patient in and see him or her.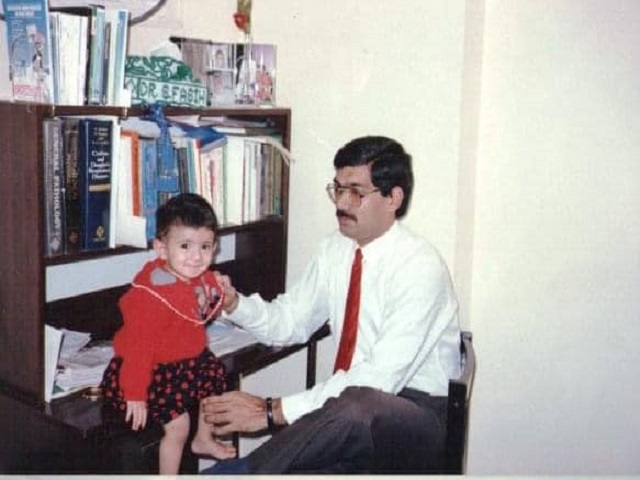 The author and Dr Fasihuddin
With rising Covid-19 cases in the country, papa did not close the doors to his clinic, despite protests from us, his children and ammi. He refused to shut his clinic for June, as he was worried about his patients and did not want them to be left with no place to go. Taj Consultant Clinics was to remain open and running.
After he contracted the coronavirus and was admitted, he kept discussing his own x-rays and investigations with the treating consultants, fearless and very hopeful that he will brave through the worst of it and survive. During his isolation in the hospital, he also kept in touch with all of us on our family Whatsapp group till Wednesday, June 24th,
"All good here. How are you guys doing?"
It was then that the x-ray showed that his lungs were deteriorating and he was put on a ventilator. After that we did not hear from him but still kept checking messages every now and then. At the time of his death, at 1pm on Friday, June 26th, several patients waited outside his clinic patiently for a consultation with Dr Syed Fasihuddin.
This was also the day that the sky fell on our family and our lives came crashing down, to the extent that we are still in a state of shock and denial. We are still hoping that this is all a very long nightmare that we are going to wake up from.
While he was a doctor and a friend to many, to me, he was my papa, my strongest advocate and my biggest supporter. He taught me the most about empathy, kindness, the value of service, hard work and how far a single good deed can go, by being an example through his own life. Without him, my world is dark and without him, I see no solutions to the problems that lie ahead.
As a daughter of a martyred frontline worker in the era of Covid-19, I wonder if I will ever be the same again and I wonder if papa's sacrifices and years of service will be recognised by the people he chose to work for. Either way, there is no solace for this loss in our family, because everything is reversible, except death.
All pictures courtesy Fatima Fasih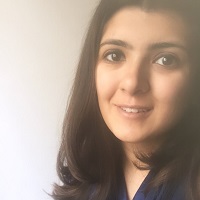 WRITTEN BY:
Fatima Fasih
Currently based in Manila, the author specialises in corporate sustainability and sustainable development with experience working with the Pakistan Business Council. Fatima is a graduate of the University of Toronto's Masters of Science in Sustainability Management program and actively participates in the management and administration of Taj Consultant Clinics. In her spare time, Fatima spends time with its her plants, running and painting in watercolors. She has also received many awards for using her watercolor paintings for charitable work.